Phil Middleton
Phil Middleton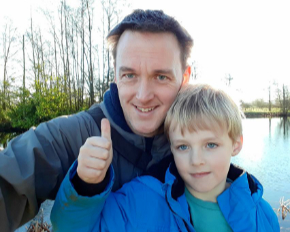 I was gifted a cheap fly tying kit 10 years ago and immediately put in in the loft. After the birth of my second child, in 2015, I came across it amongst all the baby stuff and thought I should give it some use.
I have always been the type of person that learns by doing, so I looked up my local branch of the Fly Dressers Guild and went along. They were two thirds of the way through the beginners syllabus but were happy to have me. At my first lesson a certain Darrell Howard taught me to tie the Montana Nymph and, under his instruction, I never looked back. As my tying progressed I became Secretary of the Herts FDG which I continue to this day and I am now a fly tying instructor for Herts FDG, teaching both the beginners and advanced classes on a regular basis.
I have been fortunate enough to tie on Fly Tyers Row at the London Fly Fishing Fair in both 2018 and 2019. I have also tied flies on Veniard's stand at The Game Fair in 2017 and 2019.
In 2019 I was invited to join the Vicuna Dubbing pro team and continue to be a member – this afforded me the opportunity to tie at BFFI in 2020 on the Vicuna Dubbing stand which I thoroughly enjoyed, and I will be back again in 2022.
I also enjoy giving back to the sport as much as a young family and work will allow. My nine year old son, Benjamain, has ADHD and joining me in my hobby has helped him immensely and given him a hobby to focus on. He is now passionate about fly fishing and next year will be in the junior Tourtmasters final for the second time. On top of teaching fly tying to adults and youngsters I have helped several youngsters get into fly fishing and have provided files to The Mayfly Project UK (an organisation which uses fly fishing and tying to mentor children in foster care).
I tie all different types of trout fly and use dubbing in various different ways…not only different dubbing techniques but also for parts of the fly not necessarily associated with dubbing (breathers on buzzers, tails on Grayling bugs, posts on Klinkhamers etc). I have tied Salmon flies on occasion including onto kilt pins as gifts, and I have started tying trout flies and setting them into resin cufflinks.
---