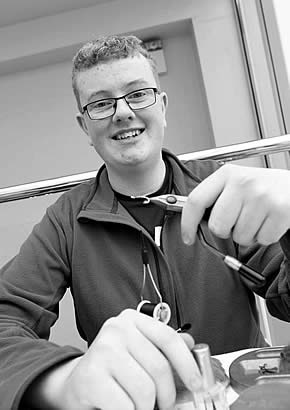 My name is Fergal Collery. I`m 20 years old and I come from a small little village in county Sligo which is located in the Northwest of Ireland.
Since I was a child, I have always had a keen interest in fishing. I was probably nine when I got my first spinning rod but it wasn't until later, when I was in my teens that I developed a keen interest in fly-fishing and fly tying.
One day I met a family friend who was an avid fisherman, he explained to me about a salmon fly which he was having a lot of success with. The fly was the Poshtosh.
I have always being creative and enjoyed making things and working with my hands so I decided to have a crack at fly tying. Ever since then, I have been tying flies – and that is probably four or five years ago now.
I predominantly tie all salmon flies, I enjoy tying many different styles and variations of patterns and sometimes I like to add my own little twists. With social media and so many excellent fly tiers posting regularly it is a great source of inspiration. I really enjoy going to the shows and demonstrations, as it is a great opportunity to meet people who have an appreciation for the sport and share ideas.
I am very much looking forward to this year's British fly fair international no doubt it will be another great weekend. It will be my second time tying at the show and it's an honour for me to be Invited back again. Don't be afraid to stop by over the weekend and say hello. See you all in the New year.
Best Regards
Fergal
---