---
We are already planning for the 2022 event and, as in previous years, tyers, exhibitors and other attractions will be added to these pages as they are confirmed.
Bridgette & Steve Cooper, and the BFFI team.
---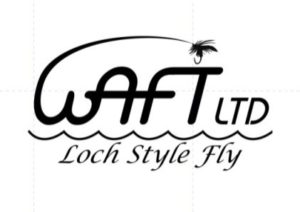 THE BFFI DADDY CHALLENGE
Who can tie the 'deadliest daddy' that is best for the 'wafting' technique?
£100 prize for the winner and a year's subs for Fly Fishing & Fly Tying for the runner up.
Don't know what 'wafting' is? Look up www.wafting.co.uk and you will see that this daddy will be used as a top dropper that behaves akin to a dapped fly or acts as an extended dabbled attractor. Bear in mind that this daddy will be airborne, dancing or skipping across the surface most of the time. So, the silhouette and the ability to fly without undue twisting are important.
Many other types of fly are used for this purpose but we will stick with the daddy for this challenge.
Of course the entries cannot be tested in real life until next season but the most promising entries will be tried out on a test rig on the WAFT table at the exhibition.
Entry is free. Entries at the show close at 5pm on the Saturday. All entries will be displayed on the WAFT table. Postal entries must be received a full week prior to the show. Judging will take place midday Sunday and the winner announced at 2pm.
It is hoped that keen amateur tiers along with the professionals – especially those on tiers row will give it a go. Could be fun …… Terry Coging
WAFT Ltd. The Wellyards, Old Road, Weston, Stafford. ST18 0JJ UK – Email:waftertc@gmail.com
---
** Breakfast option for those travelling from a distance **
---
Held in association with Fly Fishing and Fly Tying
Staffordshire County Showground ST18 0BD
12th and 13th February 2022
9.30am – 4.30pm
The UK's Premier Fly Fishing Show
Ample Free Parking
As in previous years we will add to the website as information becomes available and as tyers/exhibitors confirm their attendance.
Over 80 individual exhibitors this year including quality tackle, fishing holidays, organisations, bring and buy tackle stand
and the largest selection of fly tying materials at any UK show.
The famous International Fly Tying Rows with over 50 demonstrators from across the globe.
Fly Tying in Focus Theatre with live demos on the big screen
Fly Fair Forum Theatre with thought provoking presentations
Fly Tying Clinic for all fly tying queries
A great start to the new fly fishing season with a chance to meet up with old friends and talk to the experts .
All in a dry, heated indoor venue with onsite cafe and bar