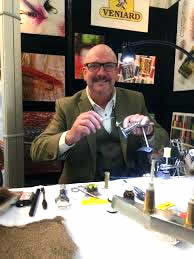 Born in England, Barry Ord Clarke is an internationally acclaimed and much published photographer and writer. His work as a fly fishing photographer has taken him to over 40 different countries and 4 continents. He is a regular contributor to numerous fishing magazines world wide. He has written, Co written and contributed to more than 30 books about fly tying. He has won medals in some of the worlds most prestigious fly tying competitions, and his own flies can be seen in the legendary 'Fly fishers club' collection in London and the Catskill master fly collection' in the Catskill Fly Fishing Museum in the United States.

For the past 25 years he has lived in Norway where he works as a professional photographer and a fly tying consultant for The Mustad Hook Company & Veniard Ltd.

In 2016 Barry was awarded the coveted 'Claudio D'Angelo award for best International Fly Tyer.
For seven years he worked closely with Marc Petitjean on his definitive book on tying with CDC, that was published in March 2018.

Barry's most recent book published Jan 2020, is already a best seller and is in its second print in both USA and UK. 'The Feather Benders fly-tying techniques' was a first for fly tying, as each step by step pattern, in the book is supported by a QR Code video link of Barry tying each and every pattern.

Barry has just finished The Beginners Guide to fly tying, to be published Autumn 2021.

Barry's YouTube Channel,The Feather Bender, https://www.youtube.com/channel/UCYb8DCVlYijoCYgvx_v2EuQ currently has 36,000 subscribers and his fly tying blog of the same name https://thefeatherbender.com has over 6,000 subscribers.
---